Rev. Robert L. Ramsey is an anointed man of God. He is a native of Thomson, Georgia. Rev. Ramsey is married to the lovely Joyce E. Ramsey. They are the parents of two children, Shaimarco "Marco" Termel Ramsey and Tanika Nicole "Nikki" Ramsey Powell. They have four grandchildren, Malik Ramsey, Chase Ramsey, Latavius Powell Jr. and Brennan Lee Powell. Their daughter-in-law is Rasheeda Ramsey and son-in-law is Latavius Powell Sr.
He received his early education in the McDuffie County School System of Thomson, Ga., and graduated from Thomson High School. Pastor Ramsey attended the American Baptist Theological Seminary Extension. He graduated from the University Hospital Clinical Pastoral Education program, the Augusta Center for Biblical Study Bible College, Andersonville Seminary, and Paine College. He is a Licensed and Certified Pastoral Counselor and Certified Temperament Counselor.
Pastor Ramsey served as the pastor of Smith Grove Baptist Church in Appling, Ga.; and Jones Grove Baptist Church and Popular Spring Baptist Church, both of Thomson. He is an active member of many local, state and national organizations. They include: President, Columbia County Church Fellowship; Board of Directors, Partnership for Community Health; Board of Directors, Richmond County Youth Detention Center; President, Baptist Ministers Conference of Augusta.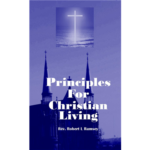 Rev. Ramsey has been Pastor of Gospel Water Branch since May 1982. Under his leadership a number of ministries have been established and expanded. They include: Christian Education, Outreach, Music, Pastor's Support and Special ministries. Pastor Ramsey also presided over the building of a new sanctuary and education and fellowship hall. He expanded Sunday services and organized and developed the Summer Enrichment Program, the Christian Youth Leadership Program and the Elderly Assistant Care Home which is now the GWB/CDC Learning Activity Center.
Pastor Ramsey's first book, "Principles for Christian Living," was published in 2012. Also, under Rev. Ramsey's guidance and leadership, the church's first history book, "Standing on the Rock," was published in 2016.
Please select the book image above to purchase Pastor's book.  God bless you.