Gospel Water Branch Baptist Church is located in Columbia County near the city of Evans, Georgia.  We are committed to preaching and teaching the Gospel of Jesus Christ. We believe The Bible is the Word of God and the only basis on which to build doctrine and beliefs. It is our desire to minister to those around us, reaching out with the message of Jesus Christ as Savior and Lord. We invite you to come and experience the presence and power of the Lord.
Our church consists of eight (8) Directorates of Ministry with more than 60 ministries that practice holistic service.  Currently our worship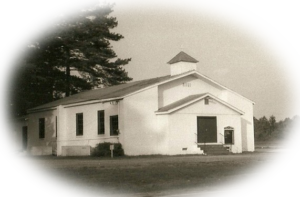 schedules offer Equipping Hour (Sunday School) and two worship services on Sunday mornings.  Sunday morning worship services are available on DVDs/CDs.
Any persons without transportation may utilize the Transportation Ministry for transportation to either service or any programs.
As we continue on the exciting journey the Lord has planned for us, our prayer is that we will remain committed to faithfully honor and serve Him with our time, talents, and resources as we seek to reach our community with the Gospel of Lord Jesus Christ.
A Brief History
On the second Sunday in July 1880, with Rev. James Gibson as their leader, Bro. Alfred Giles, Bro. George Harris, Bro. S. K. King, Bro. Paul Dixon, Sis. Annie Evans, and Sis. Jennie Butler organized the Gospel Water Branch Baptist Church. The church was built on land that was donated by Bro. John Evans. With determination and strong leadership, the church became a spiritual force within the community.
The Lord blessed Gospel Water Branch with a caring spirit and there have been only nine church leaders in the span of 135 years. They are Rev. James Gibson, who served as pastor 14 years; Rev. M. H. Hayward, who served nine years; Rev. S. K. King, who served 17 years and was also one of the organizers of the church; Rev. Burke, who served two years and eight months; Rev. S. A. Jennings, who served 41 years; Rev. W. A. Striggles, who served five years; Rev. Carlie Gardenhire, who served six years; Rev. Thomas Scott, who served eight years; and Rev. Robert L. Ramsey, who has been pastor since May 1982.
As we look back over the years, we are able to see great accomplishments and contributions by each of the church leaders. Several auxiliaries, ministries, and a number of programs were organized under different pastors.
The Gospel Water Branch Church family has used their faith to do greater works in expanding God's kingdom. Dedicated members continue to work towards God's Vision for the church and community.