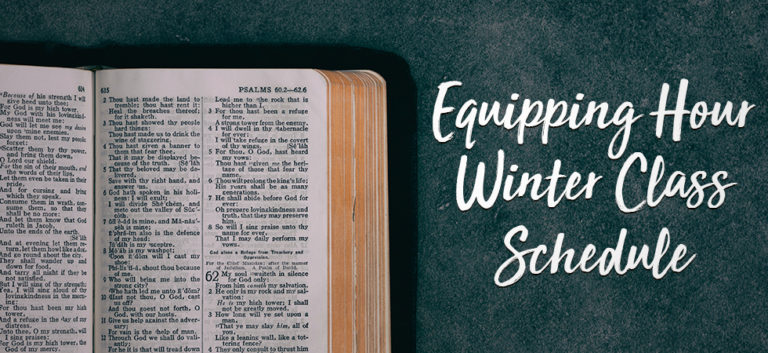 Productive (Finding Joy in What We Do): 
Productive: Finding Joy in What We Do will challenge and encourage you to take a different look at the way you work and use your money. In light of biblical values, you'll move away from living and earning for yourself and discover that your job, time, money, and life are resources you can invest for the kingdom of God.
Teacher: Sis. Bessie Flono
Time: Wednesday, 12pm, Senior Room
Revealing the Mysteries of Heaven: 
What happens when we die? Where do we go? Is there an afterlife? Does the Bible say anything specific about heaven? Are there really streets of gold there? Has anyone been to heaven and returned with inside information? This class will answer those questions and tell you what's up with heaven. God wants you to know all about your eternal home so you can anticipate the future.
Teacher: Min. Marie Montgomery
Time: Wednesday, 7:30pm, Sanctuary
Christian Discipleship: 
What is a disciple? Are you a disciple? What is teh role of a true disciple of God in the body of Christ? This is a class you don't want to miss. This is a required class for all members…if you haven't taken the course, please schedule it soon.
Teacher: Deacon Aide Michael Jordan
Time: Wednesday, 7:30pm, Fellowship Hall
Salvation/New Christian Life: 
This class is designed to nurture new believers and help all believers to refocus on the fundamentals of faith. This class will answer the basic questions that we all must know.."How do I know that I really am saved? What is salvation? How do I know what God's will is for my life?" This is a great class for old and new Christians.
Teacher: Min. Christopher March
Time: Wednesday, 7:30pm
Principles of Christian Leadership: 
This is an exciting and dynamic class. It equips the students to be effective leaders and soldiers of Christ. It provides the necessary tools to live a more Spirit-filled, productive life. This class is open to all students and required class for all leaders.
Teacher: Pastor Robert L. Ramsey
Time: Saturday, 9am, Fellowship Hall
Managing Finances God's Way: 
This is a critical class for help in managing personal finances. The objectives of this class are to assist in (1) developing a plan to eliminate personal debt, (2) developing a personal budget, (3) developing a plan to deal with credit, (4) estate planning, (5) planning for college and (6) investment. No matter what your financial goal is, this is a class that will enrich your life.
Teacher: Dea. Craig Magee
Time: Wednesday, 7:30pm, Upstairs Room 201
War Room Bible Study: 
Prayer is a power weapon. Through this Bible study, believers will be called to evaluate their spiritual life and growth, to uncover their true character, to trust in the God of grace, to declare victory over their true Enemy, and to find their identity in their Savior. This study will serve as a reminder that prayer really is a powerful weapon.
Teacher: Sis. Rosa Hardy Biles
Time: Wednesday, 7:30pm, Senior Room
Principles for Christian Living: 
This class will teach the fundamentals by which all Christians should live. You will learn how to apply these principles to your everyday life. Anyone who has a desire to learn about these principles are welcome to attend.
Teacher: Min. Cornell Harris
Time: Wednesday, 7:30pm, Library
Youth (Ages 13 – 17): 
This class seeks to empower teens by providing sound doctrine, with a focus on concerns and subjects that teens face in their daily lives. Each lesson is based on daily characters and scenarios that reflect the issues.
Teacher: Deacon Aide Mears & Min. Sheila Hendrix
Time: Wednesday, 7:30pm, Youth Classroom 200 Upstairs
Youth (Ages 9-12): 
Classes are energizing and developmental as they provide fundamental basis for the spiritual growth of our children. Movies, games,  and other activities will be used to enhance learning.
Time: Wednesday, 7:30pm, Youth Classroom 205 Upstairs
Youth (Ages 5-8): 
Children are taught Biblical principles from the Old and New Testament through games and other interesting activities, that keep them motivated while developing a love for Christ.
Teacher: Sis. Savannah Magee
Time: Wednesday, 7:30pm, Children's Classroom 202 Upstairs